On February 10, Li Qingmin, leader of the anti epidemic vanguard team of chuangze intelligent robot group company and chairman of the company, led seven pioneer members to send six intelligent disinfection robots to Shandong Chest Hospital, Jinan infectious disease hospital and Jinan disease prevention and control center, and immediately put them into the battle of disinfection.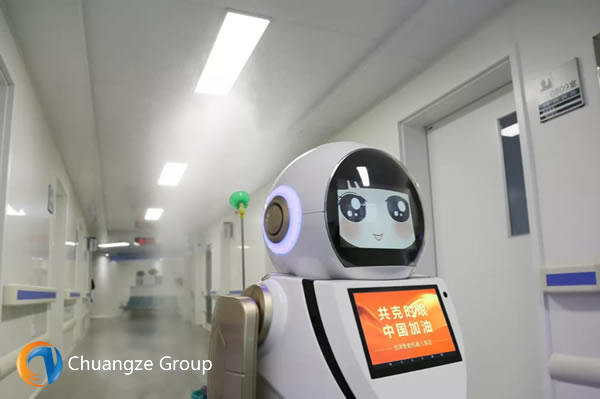 After the outbreak of the epidemic, chuangze intelligent robot group quickly established an anti epidemic vanguard composed of 85 people. On the one hand, it did a good job in its own epidemic prevention and control. On the other hand, it gave full play to the technical advantages of artificial intelligence quasi Unicorn enterprises, took the lead in developing disinfection robots and put them into use.
At present, the company has donated 12 disinfection robots to Jinan, Rizhao, Jining and other places in Shandong Province. The safe and efficient disinfection function of the robot is welcomed by relevant hospitals and other infectious disease prevention and control institutions.
In addition, the company has also developed a number of products such as intelligent guidance robot and medical distribution robot, which have been put on the market to help many provinces and cities fight against the epidemic.