Look, the robot is sterilizing. It is so high-tech!, On the 16th, in the corridor of the Third Hospital of the city, a naive automatic intelligent disinfection and sterilization robot was carrying a blue disinfection barrel to and fro busy spraying disinfection, which attracted the curious eyes of many doctors and patients.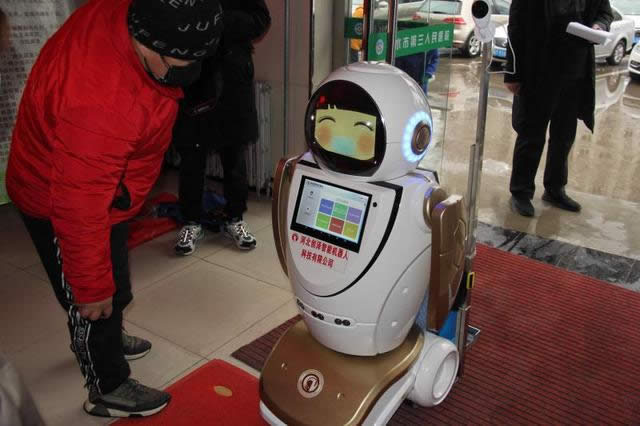 "Its name is Chuang Chuang Chuang. It's a disinfection robot. It's just been on duty." According to the staff of the Third Hospital, this is donated to the hospital by chuangze intelligent robot. Chuang Chuang is about 1.2 meters high, with a blue disinfection bucket behind. When working, turn on the switch and tell it "Chuang Chuang, start disinfection". It will start spraying disinfection evenly according to the running route set by the staff in advance. It is understood that at present, the robot is applied in the semi polluted area of the Third Hospital of the city, which can automatically and highly disinfect the high-frequency activity area of patients, medical staff and medical waste along the path. "In the past, we used to spray with a small spray pot. It took about an hour each time in the semi polluted area, and we had to replenish the disinfectant several times. Now, Chuang Chuang can help us a lot! " According to the staff, the robot disinfects the semi polluted area twice a day. Each time, it loads about 2300 ml of disinfectant solution, and the disinfection task can be completed in 20 minutes. This not only liberates manpower, saves time, but also reduces the probability of being infected.
Since the outbreak of the epidemic, the application of new technologies in the field of public health has been rapidly upgraded. On February 14, chuangze intelligent, located in our city, actively responded to the call of the municipal Party committee and the municipal government, gave full play to the scientific and technological advantages of the company, donated the two intelligent medical disinfection robots developed and produced to the municipal third hospital and the second municipal hospital free of charge to support the city's epidemic prevention campaign. Lu Bing, assistant to the general manager of the company, introduced that the disinfection and sterilization robot is mainly used for sterilization and disinfection work in wards and medical public areas, which can greatly reduce the work intensity of medical workers and the probability of being infected. In addition, the robot can also achieve appointment registration, medical guidance, remote consultation, rational drug use inquiry and other functions.