With novel coronavirus pneumonia "sniping war" started, as the "national Ministry of industry"s new generation of AI industry innovation focus" announced the unit, Chuang Ze intelligent robot group Limited by Share Ltd adhere to technology to help the study of epidemic prevention, using Chuang Ze intelligent service robot "Chuang Chuang" advantage, in the National multi provincial hospitals and health service centers to promote the application.
In order to meet the needs of medical work in special period, chuangze company has carried out functional upgrading and structural transformation on the basis of existing robot technology. Chuangze technical team overcame the difficulties of "tight schedule, heavy task, shortage of spare parts caused by upstream and downstream enterprises stopping production", etc., and devoted themselves to the research and development of innovative products. At present, several chuangze intelligent robots, including intelligent medical guidance robot, medical intelligent distribution robot and automatic intelligent sterilization and disinfection robot, have been applied in hospitals and community health service centers in Shandong, Gansu, Guangxi, Henan, Jiangsu and Xinjiang, realizing consultation, remote diagnosis and treatment, cutting off the spread of pathogens and reducing the number of pathogens The workload of medical staff was lightened.
The intelligent medical guidance robot can replace the guidance personnel for contact reception in the outpatient hall. According to the standardized query template, it can ask the visitors whether they have symptoms of fever, dry cough and fatigue, and whether they have directly or indirectly contacted the personnel from Wuhan or the local people with fever symptoms, etc. The artificial intelligence algorithm can be used to calculate the answers of the visitors, and judge whether or not they have There are suspected cases, and the suspected patients can be led to the professional fever clinic window for more detailed diagnosis and judgment.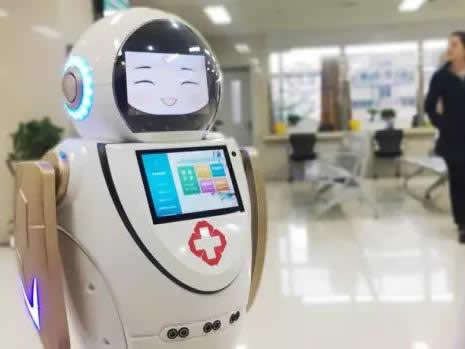 The medical intelligent distribution robot has the ability of intelligent environment perception, human-computer interaction based on Chinese / English and other natural languages, autonomous navigation and obstacle avoidance with positioning accuracy of ± 10 mm, which solves the key problems of map construction and positioning in robot complex environment, and improves the accuracy of object recognition. At present, it can distribute surgical instruments, drugs, clothes, clothing and food for infectious patients, so as to further reduce the contact between medical staff and patients and reduce cross infection.
The automatic intelligent sterilization and disinfection robot integrates robot vision system, audio and video data acquisition, intelligent voice interaction system and unmanned driving technology. It can automatically, efficiently and accurately disinfect the indoor environment according to the set route. It is mainly used in wards and medical public areas, focusing on the high-frequency activity areas of patients, medical staff and medical waste High level disinfection, to a large extent, reduces the work intensity of medical workers and the risk of infection.
In the novel coronavirus, the group of 4.5 donated 5 tons of medical alcohol and automatic sterilizing robot to the Rizhao Economic Development Zone Charity Association, which totaled 1 million 30 thousand yuan. It has been put into use and replaced artificial disinfection greatly, contributing to the prevention and control of pneumonia caused by the new type of coronary disease virus.
Recently, chuangze Group donated a batch of automatic intelligent disinfection and sterilization robots to Shandong, Hebei, Gansu and other anti epidemic frontlines. Up to now, the value of materials donated by chuangze group has exceeded 3 million yuan.