On July 23, 2020, the 6th International Service Robot Industry Summit Forum and "the third Qilin cup award ceremony" were jointly sponsored by China machinery industry international cooperation consulting service center, Nanjing Qilin science and Technology Innovation Park Management Committee, and China service robot and special robot industry alliance. At the ceremony, chuangze group, the leading enterprise of intelligent service robots in China, was awarded the honorary certificate of "Qilin Cup: Top 10 most popular anti epidemic robots of 2020".
It is reported that the "2020 top 10 most popular anti epidemic robots" selection activity lasted for 25 days, with 104 products from 104 robot enterprises participating in the selection. It is a large-scale selection activity in the domestic robot industry, and the only national "anti epidemic robot" selection so far, aiming to pass the national "anti epidemic machine" selection "People" selection, let more people inside and outside the robot industry to see these excellent, responsible, responsible, have the feelings of home country "anti epidemic pioneers"!
In this selection activity, chuangze group's "intelligent disinfection and sterilization robot" stood out among many excellent robot products in China, and won the second place of Kirin Cup's most popular anti epidemic robot in 2020.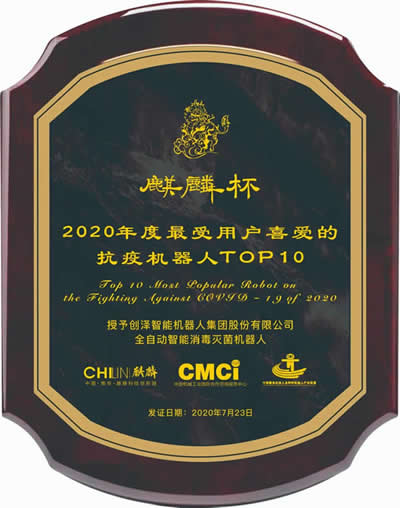 Under the new epidemic situation, in order to reduce the contact and infection between people, the demand of "machines for people" and "machines to help people" has been stimulated. Chuangze group bravely took social responsibility, responded positively, and quickly organized backbone forces to carry out scientific research and tackling key problems. A batch of epidemic prevention and control robots developed by chuangze group rushed to the front line at the first time, and assisted many medical institutions to realize "scientific and technological anti epidemic" with "intelligent epidemic prevention force", which effectively reduced the cross infection between people, reduced the risk of virus transmission, and guarded 100 with intelligent services Health of surname. Novel coronavirus pneumonia was released in June this year. The Ministry of industry and information technology announced the list of AI enterprises that are outstanding in technology support for the fight against new crown pneumonia. Chuang Ze group is on the list. "Intelligent disinfection robot" has played an active role in the epidemic prevention and control.
In the "Qilin Cup: the most popular anti epidemic robot top 10" award-winning product exhibition area, all kinds of robots are dazzling. Chuangze group's "intelligent disinfection and sterilization robot" has attracted many domestic mainstream media interviews with its simple, practical, efficient and convenient design, and many exhibitors stopped, photographed and consulted.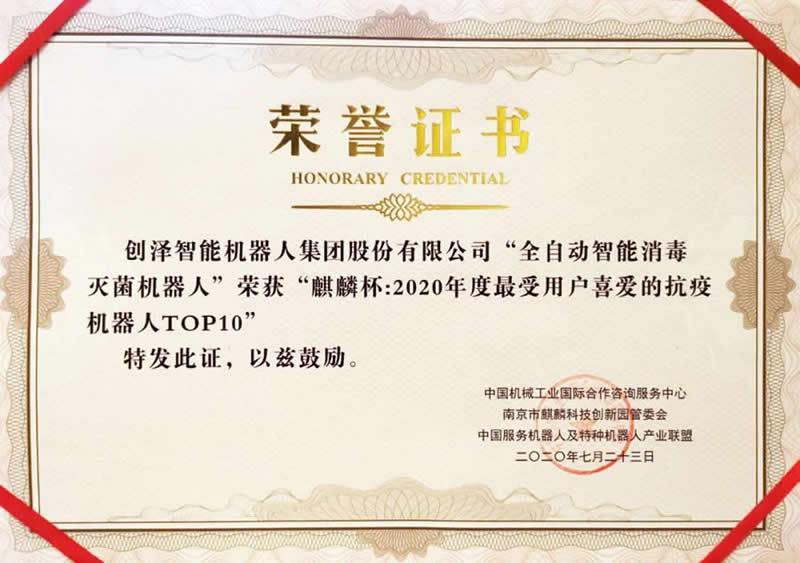 The top 10 most popular anti epidemic robots in the 2020 "Qilin Cup" list this time is undoubtedly the great recognition of chuangze robot in the national "science and technology anti epidemic" action, and it is also the concentrated embodiment of chuangze's scientific and technological strength in the field of service robots. In the future, chuangze group will increase core technology innovation, promote the large-scale landing of products in the global scope, continuously practice the social responsibility of science and technology enterprises, and empower the social development and the better life of human beings.