According to the needs of hospital epidemic prevention and control, youbiselect technology has successfully deployed three types of disinfection and epidemic prevention robots in Shenzhen No.3 hospital For the indoor temperature inspection robot aimbot, outdoor intelligent epidemic prevention robot Arres and medical consultation robot kruzr, they are respectively employed in fever clinic, outpatient building square and outpatient hall, providing services of indoor temperature monitoring and killing, outdoor epidemic control and killing, and publicity and guidance.
The three robots have achieved a number of breakthroughs in artificial intelligence and robot technology, and become powerful "weapons" for "war" epidemic. The first is the non-contact remote large-scale temperature measurement function, which can realize the remote temperature measurement of 2.5-3.5 meters, and the temperature measurement accuracy is less than ± 3 ℃, supporting 15 people to measure temperature at the same time. The second is the function of quickly locking the abnormal temperature personnel. The equipment is equipped with a temperature measuring double light tube machine, and the visible and infrared photos can quickly lock the abnormal temperature personnel. The third is based on the local network scheme to avoid monitoring interruption or failure due to the strength of wireless network signal. Fourth, based on centimeter level precise positioning and navigation, u-slam three-dimensional navigation technology enables the robot to set its own lines during inspection, patrol, disinfection and sterilization, and multiple sensors work together to realize multi-directional stereo positioning navigation and obstacle avoidance.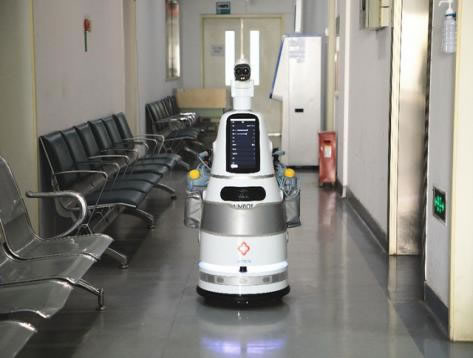 The three robots perform their respective duties and cooperate with each other, which can effectively solve the probability of cross infection and medical staff infection caused by the close range temperature measurement of fever clinic, and avoid the queuing congestion caused by the temperature measurement of medical staff, improve the work efficiency of medical staff and reduce the stay time of patients in the hospital. In addition, the killing function carried by the equipment can last 24 hours
PDF: China Academy of communications and communications released "2020 information consumption war epidemic case collection"